Libor Surge Reverberates All the Way to China's Currency Market
Add the dollar London Interbank Offered Rate to risks affecting the yuan.
A surge in the U.S. borrowing benchmark to a seven-year high is making it more expensive for Chinese companies to service $585 billion of dollar debt, encouraging firms to pay back their overseas loans and adding to pressure for the yuan to weaken.
Libor has climbed as reforms to money-market funds reduced demand for short-term debt. With traders seeing above even odds for the Federal Reserve to increase borrowing costs this year, the rate is likely to remain elevated. The three-month rate will end the year at 0.85 percent and 2017 at 1.38 percent, compared with 0.84 percent on Friday, according to the median estimates in Bloomberg surveys of analysts.
"Chinese corporates' dollar debt is mostly based on Libor, so when Libor rises, foreign-exchange pressure will increase," said Ming Ming, head of fixed-income research at Citic Securities Co., who used to work in the monetary policy division of the People's Bank of China.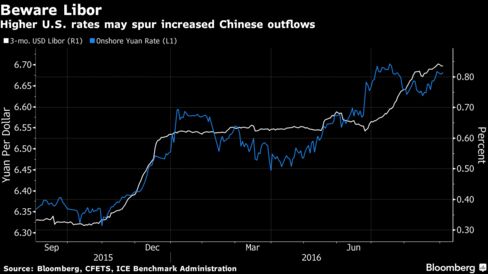 The repayment of overseas debt has been one of the primary drivers of yuan weakness since China devalued the currency last August. Global bank claims on the nation fell to $695 billion at end-March from a peak of $1.1 trillion in 2014, according to the latest data from the Bank for International Settlements. An estimated $60 billion left China in the first quarter of this year to pay down foreign credit, bringing the total to $1.6 trillion, Goldman Sachs Group Inc. said in a report in July.
The yuan rate has a higher correlation with Libor than with China's equivalent rate, according to Citic's Ming. Some 84 percent of the nation's outstanding foreign-currency debt is denominated in dollars, data compiled by Bloomberg show.
"As U.S. dollar Libor heads higher, Chinese corporates are motivated to repay these loans earlier, leading to more dollar strength against the yuan," said Koon How Heng, senior foreign-exchange strategist at Credit Suisse Group AG's private banking and wealth management unit in Singapore. "There may still be risk of further Libor strength."
The yuan has fallen 4.9 percent against the greenback in the past 12 months, and trades near the lowest level in
six years
. Weaker-than-estimated U.S. jobs data failed to reduce expectations for an interest-rate hike this year, with traders seeing a 59 percent chance of a move higher at December's meeting. The currency fell 0.05 percent as of 4:30 p.m. in Shanghai Tuesday.
Stay Elevated
Libor will stay elevated for months or even quarters, Jerome Schneider, Pacific Investment Management Co.'s head of short-term portfolio management, wrote in a note last month. Libor is the benchmark to value trillions of dollars in securities and loans. A manipulation scandal put the rate under a global spotlight, with about a dozen firms paying some $9 billion in fines to resolve government investigations around the world into rigging of the key benchmark.
The potential for Libor's jump to spur capital outflows from China would have a knock-on effect in the bond market. Any increase in funds leaking out of the country would make it less likely that the PBOC will cut benchmark interest rates or banks' reserve requirements, adding to liquidity risks, Citic Securities's Ming wrote in a note.
The 10-year government bond yield rose five basis points last week to 2.78 percent, climbing for a third week. The nation's short-term goal is to slow rising leverage, People's Bank of China Deputy Governor Yi Gang said in a television interview shown last week. China's foreign-exchange reserves have stabilized around $3.2 trillion, suggesting outflow pressures have eased for now.
"The surge in Libor on one hand will prompt Chinese corporates to obtain more dollars to repay foreign debt, and on the other hand will drive funds toward the U.S.," Qu Qing, an analyst at Huachuang Securities Co., wrote in a note. "Rising depreciation pressure will make funding conditions tighter, adding to the pressure of an adjustment in the bond market."